Saskatoon's Best
Collision Repair
Parr Auto Body is proud to be an "Elite SGI Accredited Repair Facility", the highest ranking our insurance company gives.
We've joined Certified Collision Care Canada which recognizes us as a business that safely repairs current and future vehicles based on manufacturer's specifications with the proper tools and equipment.  Through Certified Collision Care we are OEM Certified with Nissan, Kia, Ford and FCA Mopar products.  We are recognized by Honda Canada as a Profirst Repair Facility. 
When will my Car be Ready?
(What you can expect while your vehicle is spending quality time at Parr Auto Body)
1. Check In
Your vehicle comes into our shop, gets the interior of it fogged with disinfectant, washed, photo documentation of any previous damage we see on the vehicle plus anything we need to know to get it back to pre-accident condition.
2. Repair Planning and Meticulous Disassembly
Your vehicle then moves to disassembly where we carefully disassemble your vehicle. Almost like an onion, its layers get peeled back and we discover any hidden damage which could result in additional parts and labour to properly repair.  This is where we build the actual repair plan.  In this stage we also perform a pre-repair diagnostic scan to check your vehicle's "health".  We photo document and do what is called a supplement to your insurance company for approvals.  We then check update you and do an additional parts order if required.
3. The Body Shop!
In this stage, body and frame repairs are completed, including panel repair or replacement, frame pulls. If we need additional parts for your repairs, we often need to wait for those parts to properly fit them prior to other repairs being completed.  Depending on what kind of damage is on your vehicle, this can be a very quick stop or several days.
4. The Refinish Shop
Once body and frame repairs are completed, we move your vehicle on through to our Refinish Department.  Here your vehicle will get 'prepped for paint'.  We carefully prep it, clean it, mask it and then get it into one of our paint booths so our techs can spray PPG Envirobase colour and Clear Coat.
5. Assembly
This is where it all starts coming together, but a few steps to go still!  We re-assemble the vehicle, put glass back in if required.  We also may need to send your vehicle out for a sublet if required.  What the heck is a sublet?  It's a required part of the repair that we have a trusted provider perform such as a wheel alignment or suspension, or very often, a calibration of safety components (which must be done by an OEM computer).  We also perform a post-repair scan on your vehicle once it's been re-assembled and calibrated.  This ensures that all safety and computer features are working back to pre-accident condition.
6. The Finale!
A test drive, a clean up and a final inspection.  Now we get to call you with the good new that your favorite ride is ready for pick up!
Training and Technology
Parr Auto Body is an I-Car Gold Class and Aluminum Certified shop with Platinum trained technicians; our techs are recognized through our industry's national training program which is dedicated to knowledge and skills and continual training in collision repair.  Check out more at www.i-car.ca for more information.
We belong to Certified Collision Care which is a program to ensure that the highly technical, next generation vehicles are properly repaired to manufacturers standards.  Leading Automakers are taking steps to ensure that collision providers such as Parr Auto Body have the training, knowledge, tools and safety to bring their vehicles back to pre-accident condition.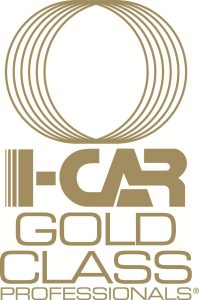 When your vehicle is ready for pick up, we guarantee it will be clean. We're talking dig out the Cheerios from the cracks in the back seats, clean. French fries removed from between the seats clean….….even cleaned out the cup holders clean!!