Saskatoon's Best
Collision Repair
Parr Auto Body is proud to be an "Elite SGI Accredited Repair Facility", the highest ranking our insurance company gives.
We've joined Certified Collision Care Canada which recognizes us as a business that safely repairs current and future vehicles based on manufacturer's specifications with the proper tools and equipment.  Through Certified Collision Care we are OEM Certified with Nissan, Kia, Ford and FCA Mopar products. We are recognized by Honda Canada as a Profirst Repair Facility. 
First we run your vehicle through:
Meticulous Disassembly
When your vehicle arrives, we do meticulous disassembly to discover ALL damage, even the hidden stuff!
We go over every inch of your vehicle's body to make sure we don't miss a single thing with a physical dismantle and discovery.

We identify additional parts and and labour required for repairs.
Photo documentation of the damage is done as well.
Repair Planning
Our expert team will take the time to build out a repair plan for your vehicle including:
Pricing out of parts and labour.

Getting insurance approval on repair as required.
P

roviding you with a timeline or ETA on parts.

Booking your vehicle in for repair.
Then comes the Parr Repair Process:
The Body Shop
Our technicians carefully disassemble your vehicle to discover all damage and parts that need replacing.  It's like peeling the layers of an onion back.  Sometimes the damage is hidden.

We do what's called a pre-repair diagnostic scan on your vehicle.  This checks any previous codes as well as codes that may have been caused because of a collision.

Repairs get completed here and may include panel replacement or repair, as well as frame repairs.  We also replace glass.

A careful check in with our QV (quality verification) happens before it moves to The Refinish Shop.
The Refinish Shop
Once your vehicle is finished in the body shop, it moves to prep and paint.

We've already got your paint colour chosen and most often, the paint mixed. But there's a few steps ahead of spraying on colour!

We carefully prep your vehicle, then clean it, mask it and get it ready for our techs to spray the PPG Envirobase colour.

Base coat is finished off with PPG Envirobase Clear Coat.

Again, here we inspect following our QV process before it moves over to Assembly.
Assembly
This is where we put your vehicle all back together again.

The length of time in assembly depends on how much of the vehicle was taken apart during the repair process.

At this point, we may send your vehicle out for any suspension/mechanical repairs; for example, a wheel alignment if required.

We will perform a post-repair scan on the vehicle once it's re-assembled to confirm all codes have been dealt with.  Depending on the make/model of your ride, a re-calibration may be required by the OE Manufacturer (OE is the Original Equipment Manufacturer) to get your vehicle back to pre-accident condition.
And finally…
Completion 
Your vehicle goes through our outgoing detail process.

We do a thorough inspection ensuring that all items have been completed.

We call you when the keys cross our front desk and it's ready for pick up!
Training and Technology
Parr Auto Body is an I-CAR Gold Class and Aluminum Certified shop with Platinum trained technicians – our technicians are recognized through our industry's main training program which is dedicated to information, knowledge and skills in continuous learning in the collision repair industry.  Check out www.i-car.ca for more information.
Parr Auto Body is recognized by Honda Canada and we are a Profirst repair facility.
We are a part of Certified Collision Care, which recognizes us a business that has achieved training, tooling and equipment to safely repair your vehicle and future vehicles based on the OEM requirements.  Most specifically through Certified Collision care, we are certified with FCA (Chrysler, Jeep, Dodge Ram, Fiat), KIA Canada and Nissan Canada and Ford.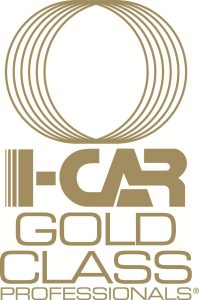 Customer Feedback
"Absolutely amazing experience dealing with Parr Auto Body!  They were friendly and worked quickly!  My car was done within three days, they completely cleaned my car AND gave me cookies when I came to pick up my vehicle.  I will 100% recommend Parr to my friends and family." KessaJay 
"Parr Auto Body was recommended to me and now I can say I will do the same!  I called in with questions before booking my car in to get fixed and the staff were so knowledgeable and helpful.  The entire process of getting my car fixed after being in an accident was completely stress free – from being set up with a rental to dealing with insurance.  Because of the team at Parr Auto Body I had almost nothing to worry about!  And they also kept me updated throughout the process.  Thank you so much!" – DT

When your vehicle is ready for pick up, we guarantee it will be clean. We're talking dig out the Cheerios from the cracks in the back seats, clean. French fries removed from between the seats clean….….even cleaned out the cup holders clean!!